Ingenuity and Beyond: Rockets Week
Ingenuity and Beyond is an exciting initiative from UTC Leeds designed to enthuse our students, stakeholders and supporters alike and give just a taste of what we're doing here in the City. Over this academic year we will be hosting three innovative events: Rockets, Robots and Race Cars.
The first event, Rockets, launched on the 27th November, where we welcomed representatives from the International Space Academy, NASA, CERN (European Agency for Nuclear Research), and the Science and Technology Facilities Council, as well as speakers from many of the top UK Universities. The week was packed with ground-breaking workshops and an appearance from Tim Gregory, a recent finalist in BBC's Astronauts: Do you have what it takes? who delivered an inspirational talk about his experience before touring the campus and getting involved in student activities. On Wednesday 29th November a real live rocket was in our car park, and Steve Bennett from Starchaser Industries delivered a rocket propulsion workshop. Below you'll find pictures and videos of just some of the fantastic things that happened!
You can see the full timetable from the week here: Ingenuity and Beyond: Rockets Week
Rockets Week: Overview Film
Tim Gregory Visits UTC Leeds
A Rocket in the car park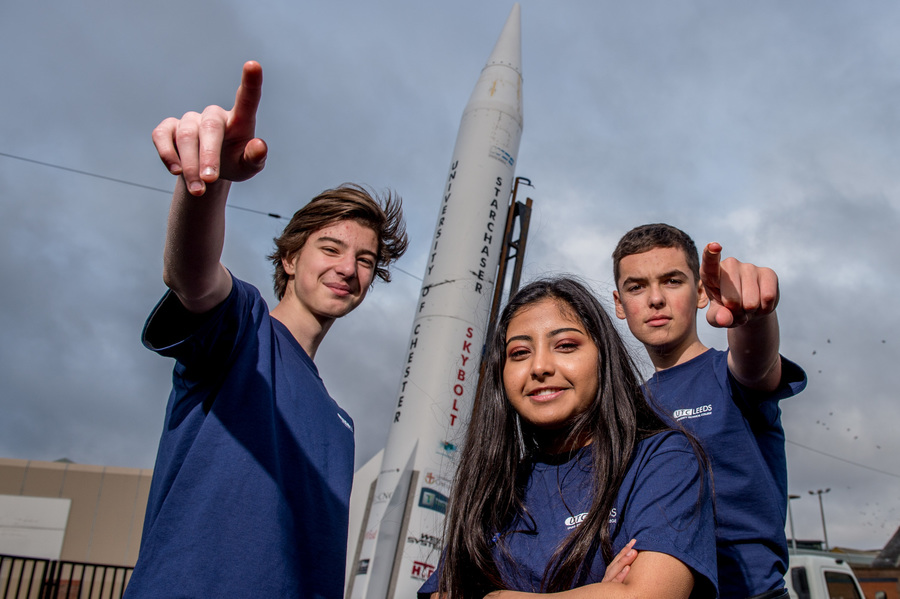 Steve Bennett, who has space tourism ambitions and was inspired to get into space travel when he was five-years-old after watching the first Moon landings, said of the week: "The UK needs more scientists and engineers and there's a lot of career opportunities in the space industry. Many young people don't understand what engineering actually involves, and the exciting careers available. Events like this aim to encourage and inspire the next generation, and raise their aspirations."
UTC Leeds student Jasmine has ambitions to become an astrophysicist. She said: "It's been a dream come true seeing a real rocket and meeting space experts. That's why I enjoy the technical learning at UTC Leeds, because it's different to other schools."
UTC Leeds student Leo said: "It's been an amazing opportunity hearing from all of the speakers including NASA. Studying at UTC Leeds gives you a head start for your career because you feel more prepared and get to work with interesting industry experts."
Mark Kennedy, Principal, said: "We are thrilled that so many world-renowned experts have shared their knowledge with us to inspire the next generation of engineers. Our students develop cutting edge technical skills because employers and industry experts work with them as part of the curriculum preparing them for exciting careers. This initiative is testament to that."
On the 5th March we will be launching the second instalment of these ground-breaking events: Robots
Keep up to date with the programme as it develops here: Ingenuity and Beyond: Robots